Welcome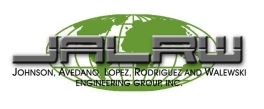 Founded in 1985, Johnson, Avedano, Lopez, Rodriguez & Walewski Engineering Group, Inc. is a an award-winning multi-discipline consulting engineering Firm specializing in HVAC, Plumbing, Fire Protection, Electrical Engineering, Sustainable Design and Development, Building Commissioning, Leadership in Energy and Environmental Design (LEED) Coordination, Energy Engineering and Building Information Modeling (BIM).
Our solutions-based approach to MEP systems engineering, energy conservation and environmental certification assures our clients of the most cost effective professional services available anywhere.

Our Firm utilizes many different tools to model building performance to match the project requirements. Our evaluations include energy modeling, life cycle cost analysis, strategic energy master planning and cost estimating among others.
We bring to your project the best team of engineers with the ability to work with other members of the Design Team, in creating Functional, Efficient and Beautiful high performance Buildings.